Boudoir photography for mature women is probably the most popular type of boudoir there is. Most of my clients are over 50. Although most started off by saying "oh I'm over 50 I couldn't possibly look good !" Well let me tell you that in my experience as a boudoir photographer this is absolutely not the case! (In fact – my best clients have been in their 60's!)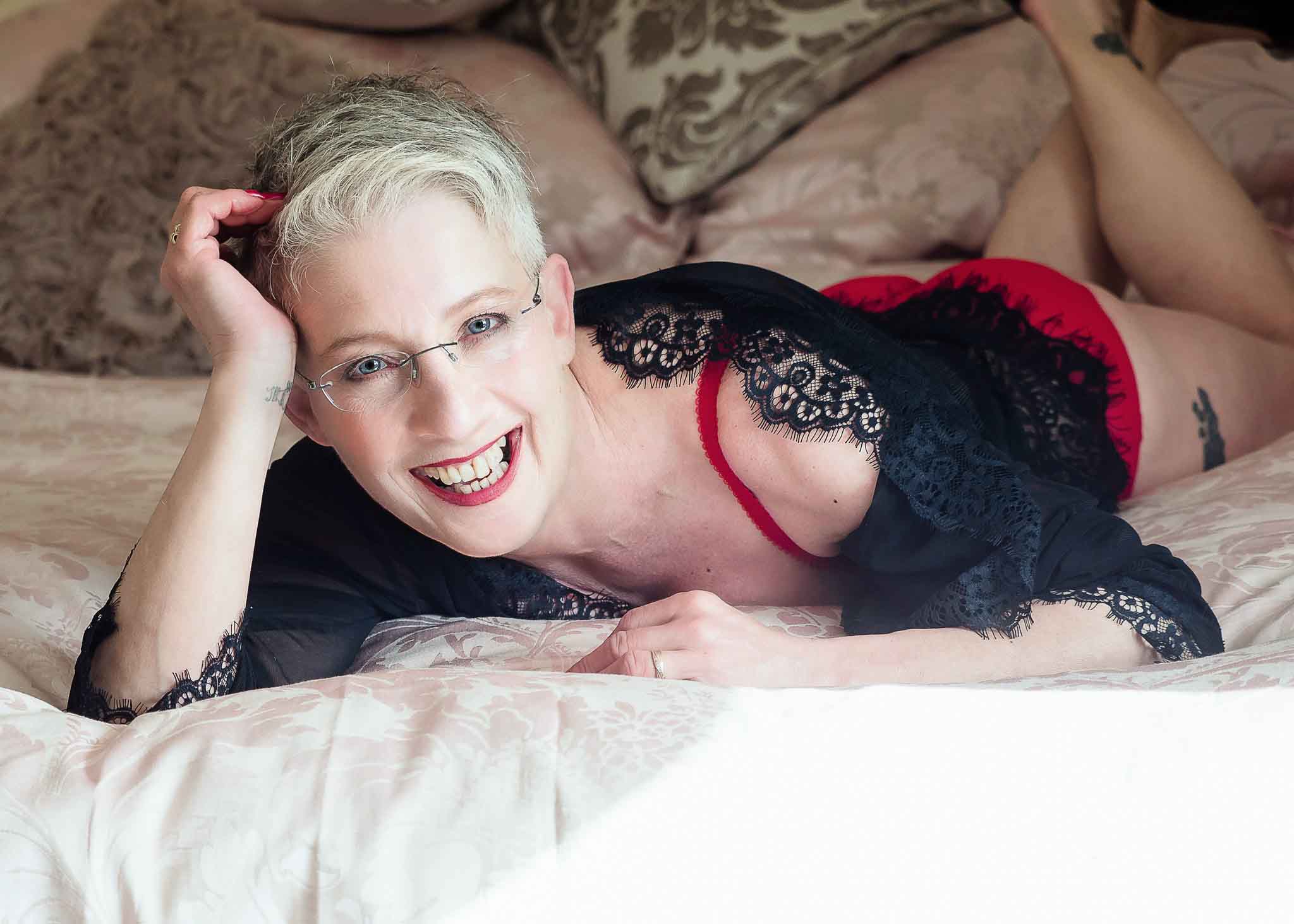 Once women relax and realise that this is a bit of fun, and we're going to make them look gorgeous – well they throw off their inhibitions, and actually enjoy the whole experience. And this shows in their photos! All of my older ladies have reveled in the shock factor. Husbands who have previously taken them for granted have suddenly sat up and taken notice!
The reasons for boudoir's growing popularity amongst older women are wide and varied but, generally, women are becoming much less self-conscious about their bodies than used to be the case. TV programs such as How to Look Good Naked have done much to promote this view by demonstrating that, with a little help, anyone can look great regardless of their shape or age.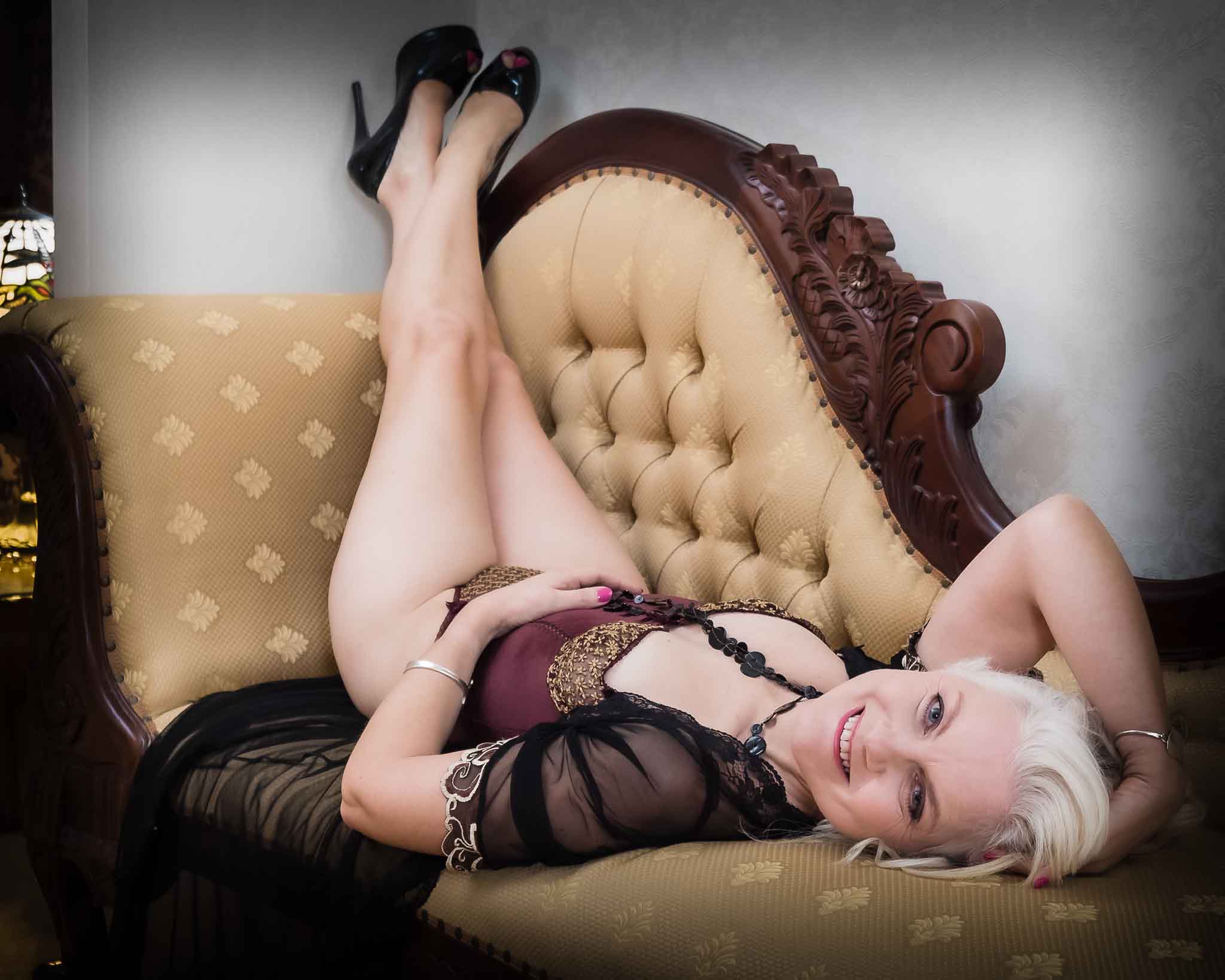 Reaching a certain age is a milestone in anyone's life and a boudoir shoot is particularly popular with women who have just turned 50 and 60. What used to be considered middle-age is now being seen as a new beginning and some women do really come 'into-their-own' at this time of life.
Read what Kim had to say about her Boudoir Photography for Mature Women session :
"A few weeks ago I found out that I had won a Symply Boudoir photo shoot. My first reaction was OH MY GOD, IVE WON! I am very shy and have very little confidence and there are parts of my body I'm not happy with. I had seen some of Sharon's work on her website and Facebook and they are absolutely amazing.
On the day I was quite nervous, but Sharon and Katie greeted me at the door and instantly they made me feel so relaxed and at ease. Katie did a fantastic job of my makeup. It was very dramatic and I didn't feel uncomfortable in any of my poses for the camera. After about 10 minutes, I can't believe how confident and relaxed I felt in front of the camera, but that was down to Sharon and Katie's encouragement they were giving me.
By the end of the shoot I felt sexy, edgy and absolutely amazing. I have just seen my photos and OH WOW they are AMAZING ( I'm sorry I keep saying amazing, but they are)! Sharon has captured ME. I had also won 1 photo but Sharon is so passionate about her photography and so talented, all my photos were awesome, so I ended up with an album. I just want to tell everyone that I have had a Boudoir photo shoot and you should definitely have one to. Xxx"
Did this post give you the courage to book your own Boudoir Experience session? Life really is too short – break free from your boundaries and have some fun! For the record – I am a "mature lady" too. So I do understand your worries and concerns. I will do everything in my power to ensure you have the best day, the best experience – and the best photos possible.
If you want to talk to other women who have had a shoot with me I have a private Boudoir group on Facebook that you are warmly invited to join. You can read what I put here – but to talk to the actual ladies who have had it done is priceless. It would be great to see you there.
Go on – be a devil – get in touch and make it happen!